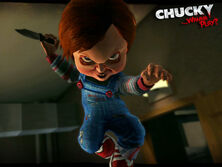 Chucky: Wanna Play? is a stealth-action video game, based on the Child's Play franchise.
The game was announced in May of 2011 by TikGames for PC and consoles, and announced a Kickstarter campaign in October of 2012. They already had $500 000 and the rights to publish, but they needed more money to do what they wanted for the gamers.
However, it had been cancelled due to money that the campaign needed to raise. They had raised $585 with 19 backers, and were trying to raise $925,000.
The video game was to be a gore-soaked adventure, in which it would let the player take Chucky's aggression on a number of random, suspiciously dressed victims in different, creative ways. The game also would have let the player stab someone in the face and not have to plea down to their way down to voluntary manslaughter. It is unknown what the plot would have been, as it seems it was intended to simply be a hack and slash game.
Community content is available under
CC-BY-SA
unless otherwise noted.